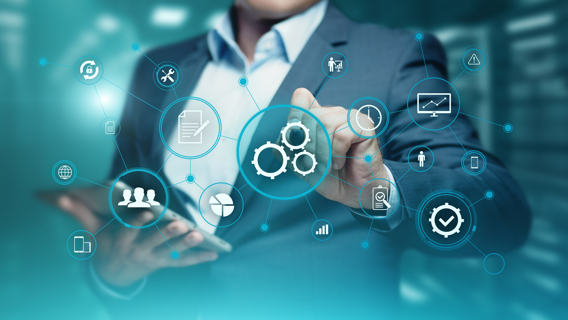 News & Insights
Four trends shaping the new world of advice
Over the last year, with significantly changing economic conditions the need for financial advice has increased considerably in Australia and globally. Concurrently, financial adviser numbers have been consolidating in many countries, however higher quality advice businesses with sound advice value propositions and more modern and personalised service models are becoming the beneficiaries of this and are expected to grow strongly in the years ahead. In Australia for example, small, independently owned advice businesses with experienced financial advisers now comprise the largest and fastest-growing segment of the market with bank-aligned advisers joining these businesses or establishing their own.
The shift to remote working and online client meetings in response to COVID-19 has highlighted the importance of a modern and personalised digital advice model and the need for an investment platform partner that can support it with innovative technology designed to deliver business efficiency and client engagement.
We've outlined four key trends that we believe will play a large part in shaping the advice industry and the adoption of investment platforms over the coming years. 
1. Transition to a digital advice model
As technology advances and investors' demand for a more personalised and tailored service increases, advisers are increasingly moving to digital solutions that drive business efficiency and increase the opportunity for client engagement.
The right technology and technology partner can help advisers provide advice to clients more efficiently and offer a range of tools for delivering a more engaged service in a scalable way.
Digital signatures
Gaining authority to proceed with advice recommendations via secure email speeds up processing times and decreases the time spent out of the market, ensuring the investor is invested in line with their financial requirements sooner.
Statistics on Praemium's online applications show, that after one month the client is 33% more likely to fund a new application via digital acceptance, achieving efficiencies for the adviser with less time spent chasing paperwork.
Online portals and reporting
Digital client portals enable advisers to provide detailed, tailored reporting with the most up-to-date portfolio information.
Available 24/7 investors have continuous access to their portfolio on any smart device ensuring clients are more informed about their wealth management.
Meetings or calls are less focused on portfolio updates and more on strategy, life event planning and progress to lifestyle plans, enhancing overall client satisfaction.
Online meetings
Whilst video or virtual meetings have significantly increased in recent months in response to the global pandemic, it is likely these will continue long after.
Video conference provides advisers with the ability to connect with clients on any device and hold review or strategy discussions. It has the potential to enhance the adviser-client relationship with the annual face to face meeting replaced with more frequent, shorter virtual meetings.
With the ability to record the video and discussion, and append it as a file note in their financial advice software it easily allows advisers to meet compliance and regulatory obligations.
2. Managed accounts leading the way
Managed accounts and the technology that underpins them is helping advisers transform their businesses through increased efficiencies that significantly reduce the time spent on administration to allow for greater focus on client relationships.
The popularity of managed accounts with advice firms continues to grow
$79.3bn in managed accounts as at 31 December 20191
40% of financial planners are using managed accounts up 5% from 20192
18% of financial planners intend to use managed accounts for the first time at some point in the future2
Importantly recent research shows that managed accounts support advisers in the key objectives:
86% reported a reduction in administration time and effort3
47% spent more time with clients3
Those advisers embracing managed accounts as a business solution are reaping the rewards
85% uplift in profits for practices using managed accounts for all their clients3
25% increase in revenue per adviser for managed accounts users vs firms not using managed accounts3
3. Data-driven decisions
As more advisers move to a digital advice model, data will play a critical role in driving this digital transformation.
Open Banking creates the possibility for a single, consolidated source of wealth information and the opportunity for advisers to create holistic wealth management services.
Artificial intelligence and machine learning are driving more personalised, tailored solutions and creating valuable insights into client sentiment around their wealth management.  Making use of data analytic strategies provides advisers with the opportunity to build a picture of client requirements and pre-empt client needs.
Creating a process for gathering, managing, storing and protecting data will be an increasing focus for advisers.
4. Integrated Platforms


As advisers look to offer increasingly digitised services and provide a complete wealth management service, they will demand functionality from their platform provider that allows them to achieve this efficiently and at scale.
The ability to access the full suite of investment solutions on a single platform and allow for a holistic wealth management service.
The provision of a consolidated view of custody and non-custody assets to meet their clients' needs.
Complete outsourcing of administration services to allow for greater focus on advice provision.
Integrated technology solutions with data feeds from various providers and a single source of data.
Praemium with its fully integrated managed account platform is well-positioned for the new world of advice. We continue to innovate and enhance our functionality to provide advisers with the ability to manage all their clients, all their portfolios and all their investments on a single platform.  Our market-leading investor portal allows advisers to deliver tailored reporting and information to their clients in an innovative and intuitive interface, accessible on any device.  Our Virtual Managed Account Administration Service (VMAAS) is also catering to the growing segment of advisers looking for a complete outsourced administration solution.
We continue to leverage our global experience and expertise across key financial markets to the benefit of all our clients, ensuring we are able to respond to changing markets and regulations quickly.
In this new and ever-changing world, Praemium is the investment platform for where the advice market is going next.
Welcome to the upgrade
1 Institute of Managed Account Professionals Census December 2019
2 Investment Trends 2020 Managed Account Survey
3 Business Health/ Praemium 'The real truth about managed accounts' September 2019