Praemium has commissioned research into the Australian High Net Worth investor in conjunction with leading financial services market research firm Investment Trends. The research takes an in-depth look at the HNW investor, where they invest their portfolio, their views on the stock market, their advice needs, who they seek advice from and what they are looking for from a digital service. The research identified a rapidly growing and important investor segment.
An emerging investor segment 
The High Net Worth (HNW) investor market has grown significantly over the last year, due to a combination of lower debt, increased household savings and a surge in asset valuation. The greatest growth in investors was in the emerging HNW segment, those with investable assets of $1m - $2.5m (excluding super, house, business, net of debt, including SMSF).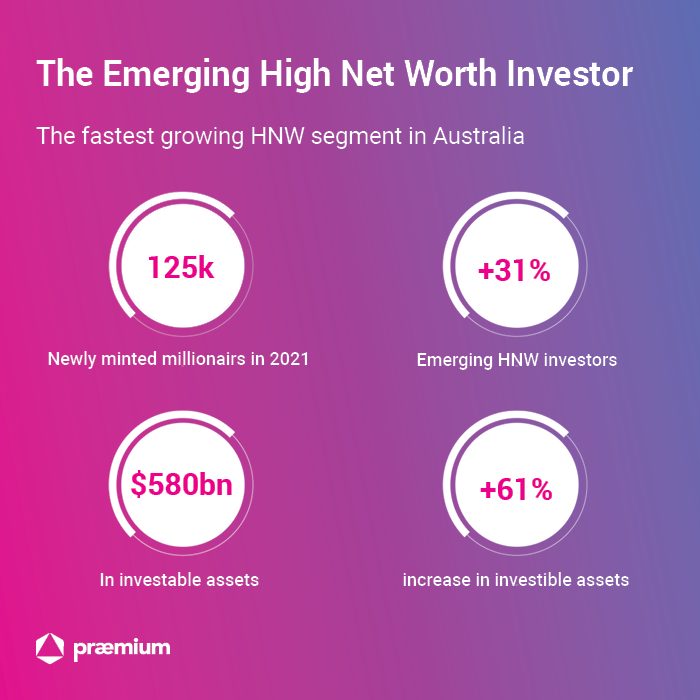 Download the Emerging HNW Investor Ebook
To find out 
how optimistic and confident they are about the future performance of the stock market
where they invest their portfolio and what assets saw the biggest surge in interest
their views on advisers and key advice needs
their attitudes to responsible investing
and what they value in a digital experience
You'll gain valuable insights into how to deliver an advice service that meets the needs of this unique investor segment and potentially gain a new generation of clients. 
DOWNLOAD EBOOK
Gain greater insights with our recorded webinar
The emerging HNW investor and their key advice requirements – the opportunity
Praemium's Chief Distribution Officer Martin Morris ran a session outlining the key findings from the Investment Trends 2021 HNW research report with a focus on the emerging HNW investor, their attitudes towards advice and investing. He will also discuss the opportunity for advisers to cater to this unique investor segment's unmet advice needs, including intergenerational wealth transfer, ESG and total wealth reporting.
VIEW WEBINAR
Praemium - A single platform. For every client. For every investment. For every advice strategy.
Praemium's award-winning platform has been crafted in collaboration with large institutional groups, private wealth managers and advice businesses to deliver a next-generation integrated platform that can cater to any advice strategy you develop and allow you to deliver an exceptional wealth management experience for your clients.
Praemium includes the ability to manage individual investments and custodial and non-custodial managed accounts for super and non-super, and wholesale and retail clients for IFA and Private Wealth advice businesses. Only a platform that offers such a breadth of investment classes can provide clients with their total wealth position for families and individuals.
Praemium's Platform of Everything allows you to deliver tailored solutions for evolving client needs including intergenerational wealth transfer considerations, total wealth reporting and ESG investing preferences with comprehensive, accurate and engaging reporting to enhance the adviser-client relationship.
We understand this market segment like no other platform and we've collaborated closely with all areas of wealth management to build a platform that ticks all the boxes for the HNW and UHNW investor and their advisers.
Contact one of our team today to find out how we can support your business.