With interest in ethical investing growing exponentially year on year, advisers are increasingly required to help their clients align their investment goals with their values. To help advisers meet this growing demand, Praemium will next week launch ESG customisation functionality and add a new model to the Praemium SMA.
These enhancements to our ESG solutions provides advisers with a variety of options to meet the ethical considerations of their clients, they can build bespoke custom portfolios, utilise an existing SMA with customised screening services or invest into specialised ESG strategies.
ESG screening & customisation
Praemium has partnered with leading ESG research house Sustainalytics to integrate ESG research & analysis into our platform to allow investors to tailor their portfolios for their own specific ethics and values.
Advisers and Investors have always been able to place holding exclusions on the platform and many have utilised it for ESG purposes. The single stock blocking approach can be time-consuming and require ongoing research and updating of preferences to deal with changes at the stock level.
The new service powered by Praemium offers advisers a scalable way to satisfy their investors ESG preferences and the opportunity to build a deeper relationship by engaging on issues that are of importance to their clients.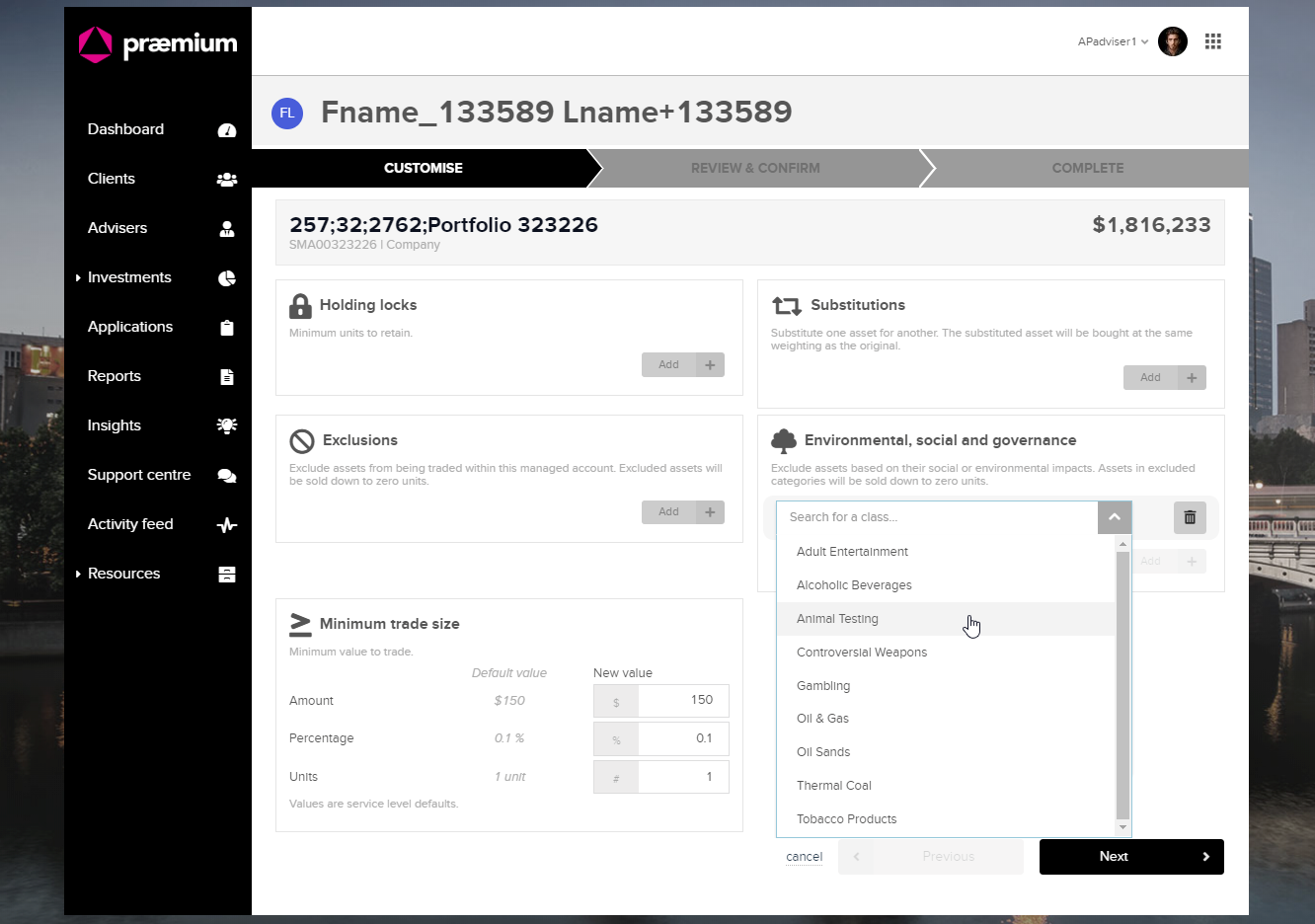 Webinar: Delivering tailored ESG solutions with DIY Screening
Damian Cilmi and our CTO Adam Pointon discuss our innovative ESG functionality. The webinar provides a demonstration of the technology, rationale behind the screening criteria used and an in-depth look at how the screening can be applied to domestic and global portfolios. 
This webinar gives you some great insights into how you can create tailored and scalable ESG solutions for your clients.
View webinar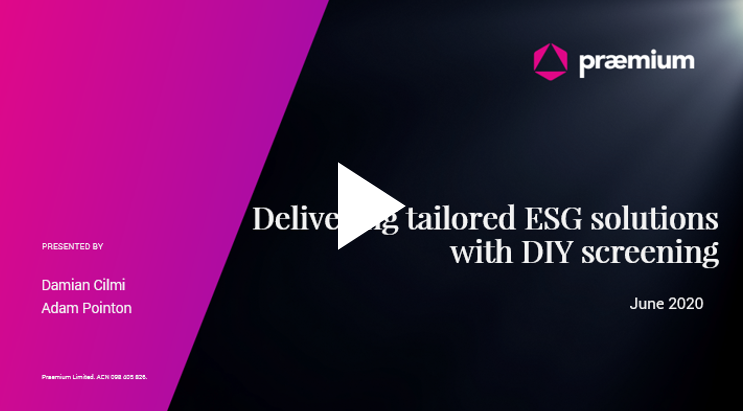 Praemium's 9 screening criteria for ESG customisation
Praemium's new ESG customisation functionality offers advisers 9 screening criteria to remove stocks on the basis of their ethical considerations.
Praemium's Head of Investment Managers & Governance Damian Cilmi talks to Sustainalytics Marco Sepulveda about each of the screening criteria and how the process works. 
Listen to podcast
10 for 2020: Creating impact with thematic investing
Sustainalytics Marco Sepulveda shares the 10 key trends they have identified in their latest thematic report as being underdeveloped and therefore offering the potential for upside investment returns. 
Download Sustainalytics 10 for 2020 report
---
New! Australian Ethical portfolio on Praemium SMA 
Australian Ethical is Australia's leading ethical wealth manager with $4.4 billion in funds under management. It has provided investors with wealth management products that align with their values and deliver strong returns since 1986. The Australian Ethical Australian Shares Portfolio is an actively managed diversified Australian share portfolio investing in companies selected for their social, environmental and financial credentials. The portfolio is centred around the 23 principles of the Australian Ethical Charter which guides them to invest in companies that have a positive impact on the planet, people and animals and avoids companies that engage in harmful products and practices. 
The Portfolio will be available via the Praemium SMA and Praemium SuperSMA from 9th March 2020.
Ethical investing with Australia's leading ethical investment manager
Praemium's Damian Cilmi talks to Australian Ethical's Head of Ethics Stuart Palmer about the ethical investing landscape, ethical investment terminology, the screening processes and the potential positive impact on performance. The podcast also covers the rising focus on responsible business practices, the emphasis on governance and managing climate risk.
Listen to podcast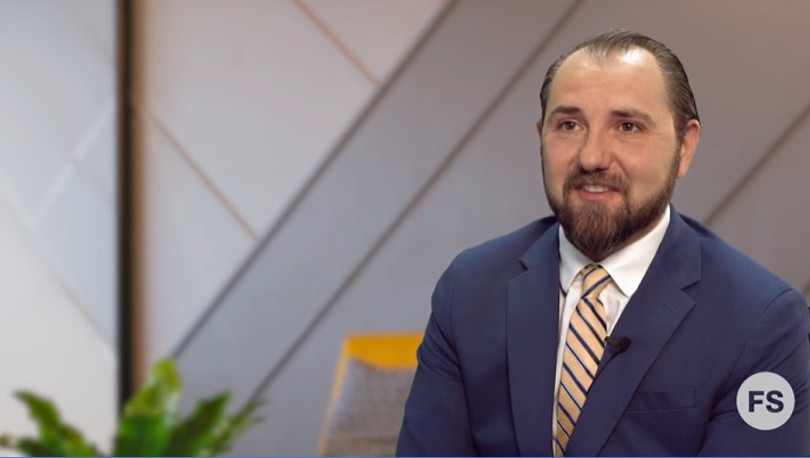 FSiTV Product Showcase
Praemium's Damian Cilmi talks to Financial Standard about the ethical investing landscape and some of the latest options advisers have to meet their clients' ethical considerations. 
Watch video
Growing interest in ESG an opportunity for advisers
Interest in ESG (environmental, social and governance) investment solutions has been on the rise over the past decade. With the intensified media coverage following a summer of natural disasters, more Australians to look for ways to lessen their environmental footprint. 
Advisers who are educated on the options available for ethical investing will be in a strong position to cater to this growing market of investors and help them to align their values with their investment goals. Read full article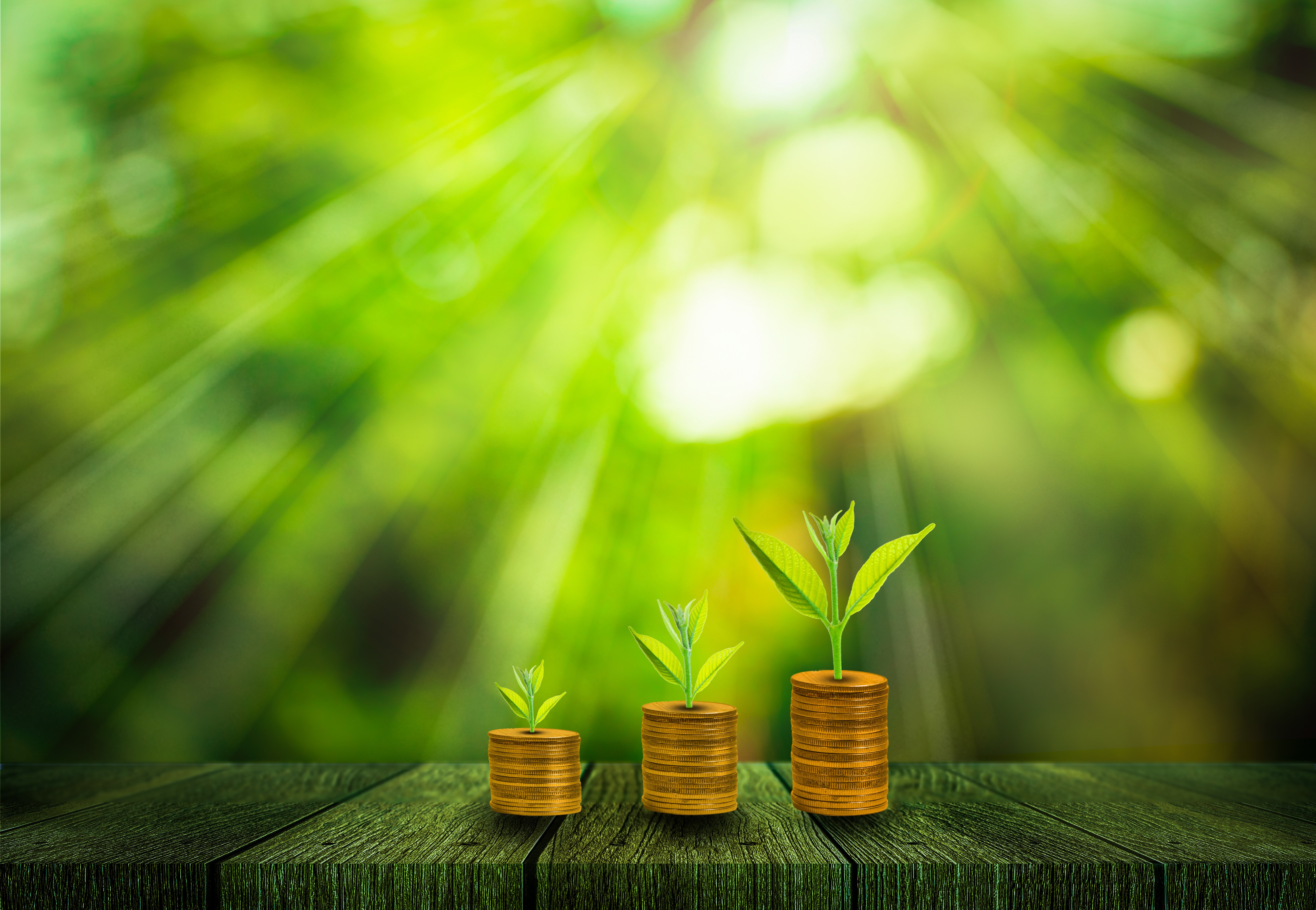 Useful resources
Our investment manager partners have shared their latest thinking and insights on ethical investing. You can also review the ethical investment options in the Praemium SMA PDS and Investment Menu.